Looking for a new career?
We will train you!
If you have a strong work ethic and a passion for learning new skills,
apply today
.
Roof Installation & Repair
Whether you're building a brand new house, replacing an older roof, or making repairs, our Experts are here to help you make plan of action, gather materials, and even help you find a local contractor for your installation.
Existing Roof Conditions
When only a portion of your roof needs to be repaired, the new materials will need to fit and work with the existing roofing. The type of material used, the roof's slope, and the condition of the underlayment should all be thoroughly examined by a trusted local contractor.
Underlayment & Interlayment
For extra protection against water infiltration, an underlayment should be interlaid on your roof deck, before your roofing is installed. It will also help in the
prevention of mold and rot.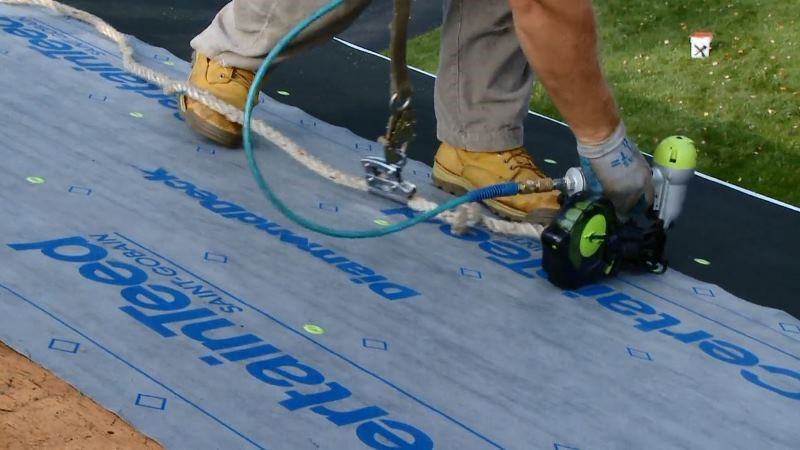 Roofing Materials
You may want to consider how long your materials will last in your seasonal climate, your budget, and the possibility of adding value to your home. Those can include:
Asphalt shingles

Natural slate shingles

Wood or composite shingles

Metal roofing or shingles

Rubber, Clay, Concrete, or other tiles
Want some extra help on choosing the right material? Learn more about the pros and cons of popular types of roofing materials.
Leaks & Damages
Wetness could lead to mold and rot. Anything that has been damaged by water will need to be removed and replaced. The defective portions or shingles must be eliminated and replaced with new layers.
Roof Features
Features such as chimneys, vents, turbines, and TV satellite dishes require flashing to be installed around the base to help protect from leaks. This extra material and labor can bump up the installation costs.
Multiple Stories
Roofs that are higher up become less accessible for installation, repairs, and maintenance. Also, having multiple stories may impact the way your home is cooled and heated, and therefore dictate what types of roofing materials may be chosen to be installed.
Finishing Touches
You'll want to think about gutters, soffits, and roof caps so you can have the required protection needed and a complimentary color scheme to match your roof and/or siding.
Installation Options
The installation of your new roof is where a lot of your costs can add up. Between all of the materials and labor required, roofing is one of the most expensive home projects. Our Experts are here to help you get the roof you need within the budget you have.
Need more inspiration?
See a sampling of your Central New York neighbors' projects.
Ready to start your project?
Make an appointment or ask our experts any question you might have.
Need a Contractor?
Make sure you've hired the right contractor for your project. Start with our list of
local contractors
, and find one that works for you.
Email Sign Up
Get monthly sales specials and deep discounts on JAY-K Lumber products, as well as notifications of contests, events, and more sent directly to your inbox.