Looking for a new career?
We will train you!
If you have a strong work ethic and a passion for learning new skills,
apply today
.
Pine is a very versatile type of lumber. It can be used for many different projects, making it a popular choice around the world. Here we focus on 4 types of this particular wood: Select Pine, Common Pine, Patterns, and Primed Pine. We'll discuss what makes them beneficial to use and some common projects they're used for.
---
Select Pine
If you're looking for the very best pine, look no further than JAY-K Lumber Select Pine. This clear-grain, defect-free class of Eastern White Pine is the highest grade available. It's perfect for use on high-quality fine woodworking projects and as interior trim. Our select pine has a low resin content, is incredibly stable, and is an easy-to-finish, beautiful choice of board.
---
Common Pine
One of the most commonly used pieces of lumber, our Common Pine is premium grade Eastern White Pine. It comes with an appearance featuring small, tight knots that give projects a look with more character and elegance at the same time. This choice is perfect for when you want a natural-finish application, showing off the pine's naturally exposed color and grain. You can also paint Common Pine after sealing the knots. However, if you're wanting that classic pine look and feel, go no further than our Common Pine.
---
V-Groove Barn Siding Pine
V-Groove Barn Siding, often referred to as tongue and groove, are cut down the lengths of the panels so that one side has male end and the other side has a female end. This allows them to easily fit together along the lengths of the boards. Pattern = WP4
---
Shiplap Pine
Shiplap boards are very similar to V-Groove except that there are rabbet cuts along the lengths of the boards. That means they are cut into L-shape cuts. This creates a male and female side to each panel, allowing them to fit snugly together lengthwise.
---
Cove Siding Pine
Also known as Dutch Lap, German Lap, and Drop Siding, Cove Siding comes with one L-cut along the length of the board, and with a concave curved cut on the other. The curved cut adds a very distinct look to the paneling, with its end fitting nicely into the next board's L-cut. Pattern = WP105
---
Edge and Center Bead Pine
Edge and Center Bead panels are very similar to V-Groove boards except for one major aesthetic feature, which is an edge and center bead. This is done for a particular desired look to the finished installation, often a wainscot application. Pattern = WP104/ECB
---
Nickel Gap Pine
Like Shiplap, Nickel Gap has a longer tongue, which creates a gap (about the thickness of a nickel) between the faces of the boards.
---
Clear Coat Barn Siding Pine
This pattern has a clear coat finish on all four sides. It's a V-Groove WP4 pattern on all 4 edges of the board, which makes installation quicker and easier. The clear coat will protect your board's natural color from graying and moisture. Clear Coat Barn Siding will last the way you want it for years to come. Pattern = WP104
---
Primed Pine
Our Primed pine offering comes primed, clear, and defect-free. It can be used for both indoor and outdoor projects where a painted and flawless application is required. JAY-K Lumber carries the finest quality primed pine that comes with an unmatched primer finish. You'll be able to start your next job faster when you pick up your order of JAY-K Lumber pine. It's all ready for installation and your finishing coat of paint!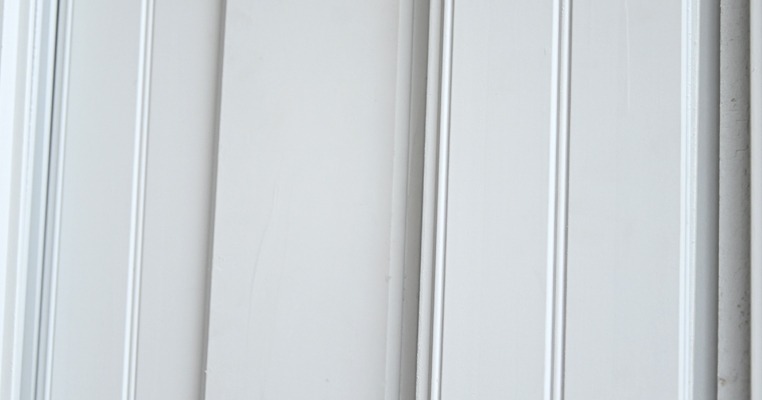 ---
Benefits of Pine
Affordability – If you're looking to keep your project costs down, pine lumber is the cost-effective option. Because it's extremely common and found naturally throughout the United States, pine is less expensive to ship and easier on your budget.
Lightweight – The lighter weight of pine makes it great for bookshelves, picture frames, bird feeders, and other items that might hang from walls, ceilings, porches—you name it.
Easy to work with – Pine is a softer wood, making it pliable and easy to cut, nail, or bend. It's softness also helps hold paint colors and stains much more easily than hardwoods.
Beautiful – There's no question that pine has a raw beauty, that's pleasing to the eye. Its blonde or reddish color is complemented by natural grains and patterns which increase your projects' overall aesthetic appeal.
---
Common Projects Using Pine Lumber
As being one of the most commonly found pieces of lumber in the world, pine can be seen used for any number of projects. However, some are much more common than others:
Cabinets – Because pine is a lightweight wood, it's an excellent choice for cabinets. The knots and coloring offer a more traditional style, while a coat of stain can accentuate the natural beauty and introduce endless style possibilities.
Wall paneling – Pine doesn't just look fantastic on walls, it's easy to install and also acts as a sound absorber. The natural softness of the wood creates an insulator that quiets down any room more than harder woods ever could.
Furniture – Since pine is so easy to work with, carpenters love being able to make exactly what they want out of it. From end tables to nightstands, coffee tables to chairs, stools to cribs, pine can be carved, bent, and shaped into whatever piece of furniture you want to help make your home pop.
Flooring – Pine floors are beautiful and easy to maintain when using the proper finish. Once treated and installed, pine resists swelling and shrinking, staying in place throughout the changing seasons better than other woods.
Mouldings and trim – For finer, elegant accents, pine—especially Select Pine—makes for fantastic mouldings, trim, and window frames. Its elasticity gives the opportunity for some creative mouldings and Select Pine's clearness makes for an unmatched, smooth look.
Knickknacks – Because it's lightweight, inexpensive and easy to use, pine is often the ideal choice for projects like holiday ornaments or arts and crafts.
---
Handling, Safety Tips, and Maintenance
Sawdust & debris – Clean all remnants of your construction and dispose of them properly. For any leftover pieces of raw lumber, contact a wood-waste dealer or your local waste disposal provider for details on recycling or repurposing.
Protective gear – Wear a dust mask and goggles when cutting any lumber.
Storage – Store in a clean, dry area.
Interior usage – Prior to installation, allow the wood to acclimatize for 72 hours in the room where it will be installed.
Exterior usage – Seal end cuts for all exterior applications.
---
Pine Lumber Dimensions and Current Stock
View the charts below to see what we currently have in stock:
Select Pine
Common Pine
Primed Pine
Windsor One Protected Primed Pine Boards
Interior Primed Pine Boards
Patterns Pine
Have a Question?
Get free expert advice on design, supplies, or installation for projects large and small.
Email Sign Up
Get monthly sales specials and deep discounts on JAY-K Lumber products, as well as notifications of contests, events, and more sent directly to your inbox.